Working With Google, Facebook and LinkedIn — How Our Accreditations Benefit Your Goals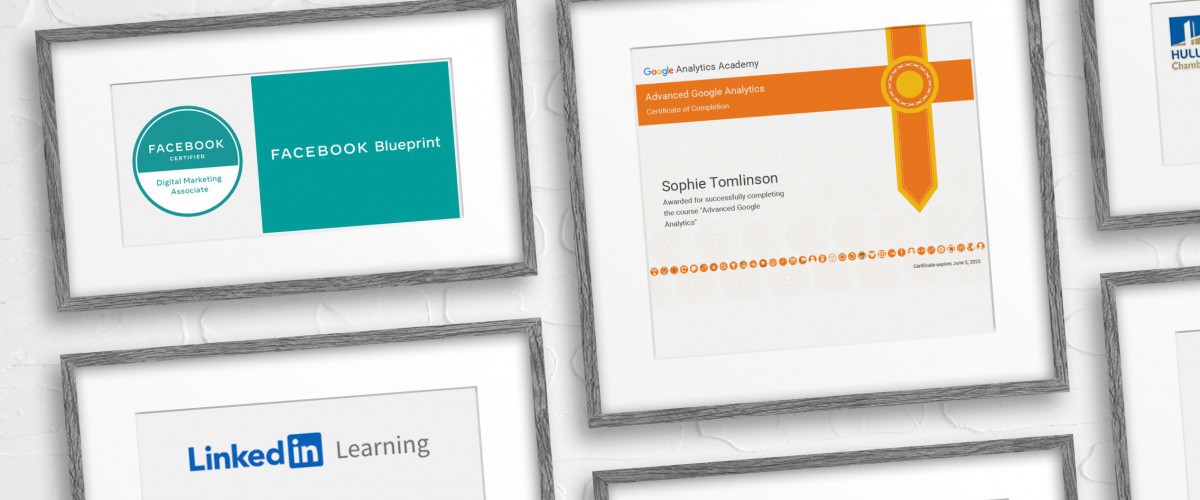 One of the most fascinating components of digital marketing is its ability to constantly adapt and evolve. With digital marketing often the fundamentals remain the same — how to raise brand awareness, how to increase conversions and how to outshine market competition. However, the actions taken to achieve these fundamentals change — trends change, consumer behaviours change, technology changes. So how do you keep up with this?
One of the benefits of working with an agency is that we analyse and inspect trends, behaviour and learn new technologies on your behalf whilst you still meet the fundamental requirements of a successful marketing strategy.
A way in which we achieve this is by undertaking relevant accreditation exams. As a team, we collectively hold a range of accreditations from Google, Facebook and LinkedIn. Combining this with our many years of experience and proven previous results, our expertise is demonstrated.

Google Ads
A large collection of our accreditation achievements belongs to Google Ads. We currently hold accreditations for:
Google Search Ads
Google Display Ads
Google Shopping Ads
Google Ads — Measurement
Google Ads is a versatile advertising platform that allows brands to showcase a range of ad types and track their performance. Depending on the purpose of the ad, the type of business and the desired outcome, we can expertly advise you on how to run the best ad for your brand, whether it be a display ad, search ad or shopping ad. Similarly, we can guide you on the best use of your ad budget and how to allocate it towards the ad campaign.
Google Analytics
Another large collection of our accreditations belongs to Google Analytics in which we have achieved:
Advanced Google Analytics
Google Analytics for Power Users
Google Analytics — Google Tag Manager Fundamentals
Google Analytics is one of the most dynamic tool sets in order to measure brand activity as well as understanding your consumer and their behaviour. By understanding your consumer's behaviour, you can make alterations to your operations and marketing activities which can have a significant impact on brand performance. We have the ability to understand and read the data that is presented and provide feedback and helpful recommendations to your company.
Facebook
We have earned, and renewed, our Digital Marketing accreditation with Facebook. This demonstrates our deep understanding of the Facebook platform and the power it possesses for reaching targeted audiences and executing digital marketing campaigns.
In terms of social media marketing, Facebook (who also own Instagram and WhatsApp) is one of the most influential platforms. The Facebook Digital Marketing accreditation is part of Facebook's Blueprint program which is the only program that the world's most used social media organisation recognises. In order to achieve this accreditation, you must have a deep understanding of the functionality and theory of Facebook, Instagram and WhatsApp and how their ads work. You must then sit an official exam at an official test centre.
By having this accreditation, we can successfully help you navigate these platforms from a digital marketing perspective and guide you on achieving your desired business results whether it's to increase leads, conversions, traffic, or brand awareness.
LinkedIn
Finally, we have achieved all the marketing accreditations that LinkedIn offer which includes:
LinkedIn Fundamentals
LinkedIn Marketing Strategy
LinkedIn is a platform that can benefit your business from a slightly different perspective, particularly if you're looking at B2B activities. With these accreditations and our teams' personal experiences with the platform, we have the ability to target relevant audiences differently to other platforms as LinkedIn focuses on what you do professionally rather than who you are as an individual.
How our accreditations help you
By working with us and capitalising on our combination of experience and official accreditations, you can be positive that the needs of your business and marketing ambitions can be met successfully.
If you would like to find out more about how we can help your organisation's marketing activities, please contact: